Fete 2023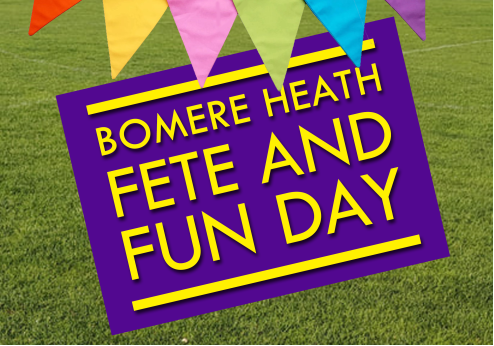 Fete 2023
Follow us on Facebook or register on our website for news updates to keep up to date with developments.
SATURDAY 9th SEPTEMBER has been confirmed.
The event is now set to take place on the 9th Sept. The committee are now working on activies and stall holders for the day.
We have confirmed that there will be
Dog Show
Great Bomere Bake off Challenge
SYA _ Youth Games
Bomere Cubs & Scouts
Leaton Church
Pickleball in the Tennis Courts
Pizza Box
Football shootout in the Ball Park
Fire Engine
Police Car
Village Hall & Coffee Shop inc stalls and games
Youth Club Raffle
Friends of Bomere Heath Primary School Tombola
Inflatables
Music with Shrewsbury Rock Choir
Milkshakes/Sweets/Cakes and much more
Rounded up by a Disco in the Village Hall and Beers in the Red Lion
Below is a plan of the day and times that access will be impacted.
11.30 - Road Closes (To allow setting up) Access to general public is restricted but residents can pass.
12.00 - Staging at the School, Wale Room, Village Hall and Red Lion and Shrewsbury Rd
12.50 – All Vehicles leave the closed road
13.00 – Fete opens - No access to vehicles
17.00 – Fete closes
17.15 – Fete Vehicles (And residents) allowed access to clear the road
18.00 – Road opens and normal access resumes
The closure is on Shrewsbury Rd from the School playing field to the Fish and Chip Shop.
We will be contacting the residents and generally we expect them to arrange alternative arrangements during the fete but appreciate that in some cases access to frontages/homes is a must. Therefore when setting up please don't block any driveways.
To aid the process, the committee will create a place plan for participants to set up. and the organisers will be located outside the Village Hall from 12pm (We will try and be identifiable buy a hi-viz) so please feel free to speak to someone prior to setting up.
Calling All Local Businesses
The Parish Council primarily funds the fete and to help reduce the burden on public funds, last year local businesses supported the event by sponsorship contributions. As a gesture of thanks their logos were displayed at the fete, demonstrating their support to the local community. If you would like to make a donation or provide a raffle prize, please contact us. Details on the Parish Council website.